BLUE Room
Room with double (full) bed, shared a bathroom down the hall, Castro Street and Twin Peaks view. Located in the front of the building on the top floor. The bathroom is private between 8 PM - 8 AM.
Rates include daily housekeeping services and our well-known organic full breakfast.
Amenities
wi-fi and hard wired internet access
flat screen cable TV
DVD player
check availability
Guest Rooms
The Inn, known for more than 35 years for its hospitality and friendly atmosphere, has 8 rooms and suites with views and private bathrooms as well as self-catering apartments.
The castro District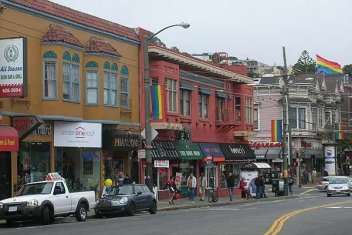 To many people, it's called the 'Castro District,' but to the gay community, it's known simply as 'The Castro.' It is one of the most diverse and interesting areas in all San Francisco.